Is the first-choice traditional pharma industry bigger or the
emerging wellness industry?
If you put together all the 10 major segments of the wellness industry, the global market size is already a whopping US$ 4.5 trillion and its growing at a historical rate, thanks to the pandemic. That is close to 4 times larger than the traditional global pharmaceutical industry.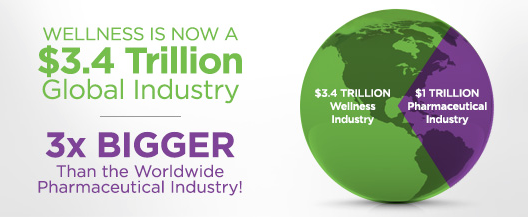 The remarkable upspring of the prevention-challenged traditional healthcare systems clubbed with universal crisis of medically unresolved obesity and chronic diseases have compelled people to consider alternative therapies. Today people world wide are taking steps to change the way they live, work and play. Various studies have shown that wellness industry can play a critical role in ensuring people have access to the best products, services and information that promotes natural well-being. Interestingly, governments too are recognizing the value of investing in preventive healthcare to lower their public health expenditure. With such huge consumer demand the wellness industry remains one of the world's largest and the fastest-growing industry with impressive growth rate.
India has an unmatched heritage represented by its ancient systems of medicine which are a treasure house of knowledge for both preventive and curative healthcare. Indian systems of medicine particularly Ayurveda and Yoga are widely recognized for their holistic approach to health and capability for meeting emerging health challenges. These systems are playing an important role in achieving the national health outcome goals of reducing Maternal Mortality Rate (MMR), Infant Mortality Rate (IMR), malnutrition and anaemia.

Both Ayurveda and Yoga have been intensely promoting the core principles of wellness for ages by advocating holistic well-being of the mind, body and spirit. Their basic focus is on adequate nutrition and plenty of relaxation. With time, wellness as a concept has taken up a multi-dimensional definition encompassing an individual's desire for social acceptance, exclusivity and collective welfare. Primarily influenced by the changes in the society and in the lifestyles of individuals these changes are also been accelerated by factors like globalization and a greater awareness of the need for community wellbeing. Progressive wellness entrepreneurs thus are offering smart solutions like preventive healthcare, luxury products and personalized services.
In India, the current wellness market size is estimated to be INRS 490 billion with a CAGR (Compounded Annual Growth Rate) of 15-17%. India is the second largest exporter of Ayurveda and alternative medicine in the world with a vast reservoir of natural flora and fauna with Himalayan region alone boasting of 8000 medicinal plants. The demand for Ayurveda, Yoga, Naturopathy, Unani, Siddha and Homoeopathy (AYUSH) and herbal products is surging in India and abroad.

After the destructive Covid-19 pandemic, health is the top priority for every individual and families. They search the internet to find a broad array of health information and are open to explore various health options, including alternative medicine. This has resulted in drastic changes in the business landscape. Retailers across all industries are expanding into health and wellness while 80% of the wellness enterprise in Indian is owned by micro, small and medium enterprises. A broad range of traditional and non-traditional healthcare players are diversifying their offerings in consumer health with D2C (direct-to-consumer) products and services that are particularly ideal for mass distribution. Many reputed traditional manufacturers of health and wellness products in India have chosen the direct selling methods to reach out to the end user providing unlimited potential for committed and dedicated individuals. The wellness industry in India is estimated to create over 3 million direct and indirect employment opportunities.
SHPL recognizes the space it has created for itself. With its own strategic manufacturing plants of premium nutritional and Ayurveda products it is committed to offer a revenue generating wellness entrepreneurship opportunities for masses. We are at the right place at the right time. Join hands with our corporate mission of spreading wellness and thus spreading happiness in our society.