Health & Wellness Wellness Juices Sea Buckthorn with Curcumin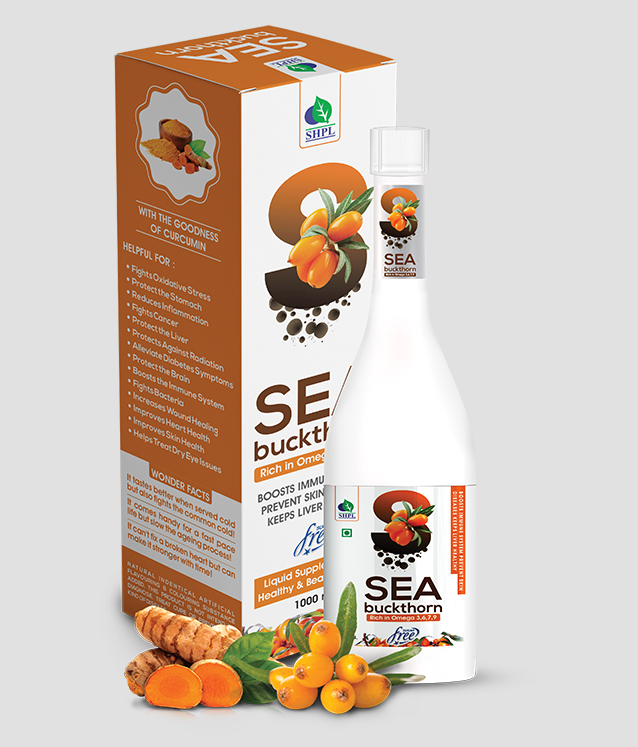 Sea Buckthorn with Curcumin
---
SHPL-1080
Wellness Juices
---
Go to Cart
Description: Saarvasri Herbs Sea Buckthorn with Curcumin Juice is an another panacea product of SHPL. Sea Buckthorn is a wonderful berry with 1300 years of traditional uses. With over 190 bioactive compounds, sea berry (sea buckthorn) is an unsurpassed source of Omega 3, 6, and 9. And it is the world's richest source of the elusive essential fatty acid, omega-7, a fatty acid vital to collagen production and healthy skin, hair and nails. Curcumin is a yellow-orange dye obtained from tumeric, the powdered root of Curcuma Longa or Turmeric. Curcumin is a natural component of the rhizome of turmeric (Curcuma longa) and one of the most powerful chemopreventive and anticancer agents. Its biological effects range from antioxidant, anti-inflammatory to inhibition of angiogenesis and is also shown to possess specific antitumoral activity.
Ingredients: Sea Buckthorn Dry Extract, Curcumin
Benefits:
• Sustains energy levels.
• Improves cellular health.
• Beneficial for Cardiovascular support.
• Relieves pain & inflammation.
• Supports Joint health.
• Lowers bad cholesterol level.
• Moisturizes dry and damaged skin.
• Improves immune health.
• Decreases wrinkles and fine lines.
• Reduces the symptoms of eczema.
Direction of Use: Take 15 ml. twice daily with half glass of water before meal or as directed by health care provider.